An exploration on the culture, medical value, and general world of weed. Check out the Health page for more medicinal canna and endocannabinoid system scoops! ★
---
Home DNA kits can help you pick a cannabis strain
Meg Hartley for Leafly
Published on September 23, 2020
They say the endocannabinoid system (ECS) is as unique as a fingerprint, and cannabis affects us all differently. Company EndoCanna Health is exploring this by offering a DNA test that will show your body's genetics and suggest a cannabis profile accordingly, as well as products for that profile.
This tool wouldn't be with us today without a real Bob Ross of a happy accident—the moment Len May, CEO of EndoCanna Health, accidentally found an effective way to manage his ADD. According to May:
"I was kind of hanging out with some older kids, and they asked me if I wanted to smoke a cigarette—and I was like, yeah, you know, I'm dabbling with cigarettes, I'm gonna be cool—and the cigarette was actually filled with weed instead. After I got done coughing, I went back to class, and the windows in my head [referring to what it's like to think with ADD] they sort of slowed down, and I could focus. So I found my medicine, it was mine."
After getting kicked out of the house for cannabis—ironically, his parents now use his cannabis formulations—he became a cannabis activist and started working in medicinal genomics, which eventually led to EndoCanna Health, and the ability to use cannabis on a truly personal level.
How does EndoCanna Health's DNA test work?
While receiving the $199 test can take a month or two, taking the test is a matter of seconds: carefully swab the inside of your cheek, then pop the swab into a tube. After registering your test into their HIPAA-compliant, fully anonymous portal, seal the swab and tube in a plastic bag, pop it into the provided paid envelope, and send 'er off to the lab. If you have DNA data already, it's faster and only costs $49.95.
Once your results are ready, log into your profile, which will have an itemized breakdown of your report and suggestions for types of cannabis. The report is broken down into:
Anxiety
Cognitive function & behavior
Digestive
Drug dependence
Drug metabolism
Fitness
Metabolism
Mood
Musculoskeletal & immune
Pain, nausea, & neurologic
Sleep
THC side effects
Digging into my report
Clicking through the various reports shows how cannabinoids interact with your genetic profile in specific ways. For instance, clicking on "Anxiety" brings three more reports: "Fear Extinction," "PTSD," and "Stress Reactivity."
Under "Fear Extinction," for example, is this summary of my specific DNA marker findings, as well as suggestions for types of cannabis to use:
In this case, it suggests I start using high-CBD ratio products, as well as cannabis with terpene profiles that include linalool and beta-caryophyllene. These responses are called "formulations," and my report suggests seven different ones for specific needs.
Also, the Personalized Wellness Plan links to relevant scientific studies and provides a link to products that match the formulation.
CEO May explained that although EndoCanna Health does sell terpene blends used in some recommended products, they don't profit directly from sales of products recommended on the Wellness Plan: "We look at certificates of analysis from different product manufacturers and run them to a matching algorithm, and we look for several things: Number one, we look for the percentage of CBD, THC; Secondary, terpene profile; and then some others, like essential oils."
How to use your cannabis DNA test results
"The best way to get the most out of your results is to understand what your genetic predispositions are to avoid an adverse effect and then to understand which products you can actually take," said May.
With your test results, you're equipped to treat symptomatic conditions based on specific genotypes in your body. "If you have a predisposition to anxiety or stress reactivity, you will know that there are certain cannabinoid and terpene profiles that can actually turn that genetic expression on," said May.
For example, if you have a marker associated with not producing endocannabinoids when anxious—as the body ought to—you'll be able to know what kind of cannabis can be substituted effectively.
And it's a living document as well, meaning it will evolve as research does. "We have a HIPAA-compliant portal that is dynamically built with lifetime updates, meaning that if there is any research that is happening now that gets published, we provide that as an update to your report on a lifetime basis. And we're fully secure and anonymized. All the data resides on Amazon's AWS; it's fully encrypted," said May.
May continued to speak on what's ahead: "The future is this whole feedback loop: It's the ability to be able to get a response from people, how you know product 'A' is really working for you, learn from your experience, and then be able to produce better individualized products."
EndoCanna Health is a research lab as well, working on studies all over the world. The company is also looking into expanding the use of epigenetic data and using biomarkers, like Fitbit info, to create a dashboard that will further personalize your experience.
Is the test worth it?
My take is probably obvious by now: I think this is a fantastic resource. I love that it breaks down which cannabinoids and terpenes will help various aspects of my body makeup. As a medical cannabis user, I find this especially relevant—it also confirmed I'm high-risk for flu severity—but these reports will also be helpful for anyone without any medical issues because we all have different bodies and cannabis will interact with each body differently.
EndoCanna Health is also looking to collaborate on research, even with competitors, because "the only way to remove this ridiculous stigma is through science," said May.
I love it. Let's science our way from being disregarded as just stoners to having data to improve specific conditions or for overall health, and knowing how best to use cannabis for those specifications.
And all this magic started with a teenager trying to smoke a cig, and failing. C'est la vie, eh?
---
Cannabis pioneer launches company to unlock the potentials of the endocannabinoid system
Meg Hartley for Leafly
Published on June 29, 2020· Last updated July 28, 2020
Scientists have been articulating the prowess of the endocannabinoid system (ECS) since the '80s, yet nearly four decades later, the ECS is hardly covered in medical schools, despite dysfunction of the system being linked to many illnesses. The endocannabinoid system (ECS) is a system of neurotransmitters and receptors that enables our bodies to benefit from cannabis, and even though medical cannabis is legal in most states, there are only a couple pharmaceuticals on the market that make use of it.
Cannabis has been studied for even longer than the ECS, but we still use the plant rather simplistically. Even though there are many components to cannabis—cannabinoids, terpenes, terpenoids, flavonoids, oh my!—the industry mostly focuses on the cannabinoids THC and CBD, when over 100 compounds have been discovered in the plant.
Luckily, there are people on a mission to elevate this state of affairs. Acclaimed endocannabinoid scientist Ethan Russo has partnered with business aficionado Nishi Whiteley to create CReDO Science, and they're off to a running start. Their research focuses on how to apply cannabis to balance the health of the ECS and help treat disease, and by creating market-disrupting technologies that utilize this research to create solutions and products (five examples coming up).
CReDO's mission
As a Leafly reader, you may be familiar with the work of Ethan Russo, as he has been featured in many of our articles (he's a bit of an ECS rock star). He's nearing 25 years of experience researching the ECS and cannabis and is also a board-certified neurologist.
The mission of his new company CReDO is, "To commercialize patented products generated from our investigation of the cannabis plant and the endocannabinoid system (ECS), making cannabis safer and better." According to the company's website, their moniker reflects the philosophy of innovation as well: "In Latin, CReDO means 'I believe.' We maintain that 'the proof is out there' for cannabis/hemp-based solutions for better living."
Talking about the stigma of cannabis and not taking advantage of its potential, Russo said: "What we're doing is trying to treat disease with at least one of our hands behind our back. It's a situation where we're not applying the requisite knowledge to the problems at hand."
He also went on to say: "It really points out how politics interfere with science and the public good; in this instance, because we've really denied ourselves the full benefits of a plant that has so much to offer medically, nutritionally, and as an aid to better living."
Russo is joined by Nishi Whiteley, a cannabis author and educator with 30 years of business development experience. In addition to stunning business credentials, she is an advocate for cannabis law reform and sits on the board of the Foundation for an Informed Texas, a cannabis advocacy organization.
Products for the endocannabinoid system
The initial efforts of CReDO Science will concentrate in a few areas for which provisional patents are in progress. Russo shared they cannot get too specific when describing most of the products, as they're still in development: "We've got a lot of convergent evolution in science—that's a fancy way of saying that you can't have an original idea for long before somebody else will think of the same thing." But they were able to give us some general scoops.
Here's what they can reveal:
Disinfectant that works on coronavirus
This product is a disinfectant that's efficacious enough to kill coronavirus, a great example of using cannabis in a novel fashion, taking advantage of its antibiotic, antiviral, and antifungal properties in an industrial way. "I personally don't like Clorox, the smell gives me headaches. But there are products that can be made with cannabis in the disinfectant area that would be, I think, aesthetically nicer and potentially even organic," said Russo.
Diagnostics for diseases of the ECS
CReDO is working on two projects that would diagnose medical conditions related to the ECS. "If there is the potential for products or treatments or profit down the road, that's nice, but that's not what keeps me up at night thinking about things; it's ideas that could help explain what ails us, and what to do about it," said Russo.
Canna nutritional line
Another product of theirs is a line of cannabis-derived nutritional products (think nutritional bars and capsules) expected to have broad anti-inflammatory effects. The ingredients remain a proprietary secret for now, but they hope to be on the market with full disclosure in the next two to three years. "These would be products that should be saleable anywhere in the US and internationally because they won't involve the inclusion of nasty [he laughs] THC or anything," said Russo.
Extraction technique
They're also working on cannabis extraction hardware that will use a technique to keep more aspects of the plant. "I'm a big proponent of the entourage effect, which requires synergy of terpenoids and cannabinoid components. And yet, many of the extraction techniques really end up wasting, particularly the terpenoid fraction," said Russo.
This technique would create cannabis products that take advantage of the full power and spectrum of cannabis' value, allowing us to benefit from terpenes, underutilized cannabinoids, and other components.
Over-the-counter medicine
They had to stay pretty tight-lipped about this one, but according to Russo: "There is a really, really common condition where current products are either toxic or not very effective. We think that we've got an effective approach with a cannabis-based product that's not going to be psychoactive, not subject to any abuse potential."
---
What it's like to be a kid who medicates with cannabis
Meg Hartley for Leafly
Published on January 15, 2020 • Last updated July 28, 2020
It's awful that there are sick children in this world, that someone so young could already be tied to grown-up matters like mandatory daily medicine. Unfortunately, it's a very real situation for many families, and its complications are made considerably more so when that medicine is federally illegal. But, due to the extensive nature of the endocannabinoid system (ECS), cannabis can be used to fight many diseases—and many of these ailments can affect people of all ages, not just adults.
We talked with a couple of families with children who regularly medicate with cannabis, aiming to get a picture at what this lifestyle is like, what kinds of challenges they face, and how cannabis has transformed their lives. We discovered stunning stories of improvement, innovation, and a couple of families who'll make you wish there was a bigger word for "inspiring."
Sophie Ryan, optic pathway glioma brain tumor
(Courtesy of the Ryan family)
Sophie Ryan was born October 3, 2012 a perfectly healthy baby girl. But it wasn't even a year before an MRI diagnosed an optic pathway glioma brain tumor, which doesn't normally shrink with chemo. Things didn't look good. Then her parents created a Facebook page called "Prayers for Sophie," and a friend put them in touch with Ricki Lake and Abby Epstein, who were filming Weed the People, a documentary about the possibility of cannabis oils treating cancer in pediatric patients.
In a phone interview with Leafly, Sophie's mother, Tracy, told us that Sophie took her first cannabis medicine at 9 months old in the film—a drop of high-concentrated CBD and THC oil on top of her food before beginning chemo treatment. Because Sophie was just a baby, they had to watch her mannerisms to try and gauge dosing, but the only side effects they've noted was sleepiness at the beginning, and a higher appetite, which is perfect for a chemo patient.
After 13 months of chemo and high doses of cannabis oil, Sophie's "unshrinkable" brain tumor was about 85 to 90% gone. Tracy shared with Leafly that even Sophie's doctor, who was originally skeptical about cannabis, had to concede that cannabis must have helped.
Its' not just in results that Sophie's cannabis treatment differs from chemo, her parents note. In addition to being more expensive, Tracy said, "Chemotherapy makes you very sick, it destroys your immune system, it causes organ failure. They lose their hair, they get sores all over their bodies and inside their mouths… Sophie was getting chemo burns when she was in diapers and we'd have to use gloves so we wouldn't get the chemo acids on our skin—it's that horrible. And then you have cannabis, and it's doing the opposite of all that."
Fortunately, Tracy hasn't gotten much judgement. She works to ensure that she's a trusted voice, making sure she's on top of research and bringing Sophie to lots of speaking engagements to show proof of how healthy she feels, despite chemo. (Tracy said Sophie is a natural and loves doing these events, with rare exceptions.)
After discovering the incredible ways cannabis could heal, Tracy decided to create her own business, CannaKids. They're now selling high quality tinctures and syringes throughout California and are working on expanding to Canada and Australia, as well as starting a nationwide hemp line with 6-9 cannabinoids. Like many, legalization presented some significant issues, with Tracy sharing that her business "almost didn't survive the costs and demands of legalization." For instance, they have had to change the name because of laws about marketing cannabis to children; CKSoul is the new product line, and CannaKids will continue to operate as a non-commercial resource.
They've also started a foundation called Saving Sophie, which has raised $60k but Tracy said, "That's like a week's work in a laboratory. They'll need about a half million to get rolling." And the Ryans have also started a podcast to promote awareness and raise funds—check it out here.
Coltyn Turner, Crohn's disease
(Courtesy of the Turner family)
Coltyn Turner developed Crohn's disease when he was 11 years old, after a near-drowning incident led to a bacterial infection. For the next three years, he'd try various traditional treatments, which he and his mother, Wendy, say nearly killed him. In a phone interview with Leafly, Coltyn shared, "The pharmaceutical medications that I've tried [range from] pills that do absolutely nothing, to shots that gave me nosebleeds, profusely, for 15 minutes straight, [to] another chemo-like infusion treatment gave me medically-induced rheumatoid arthritis (RA) and lupus."
You read that right. Coltyn and his family report that traditional medications left him with two more chronic illnesses, each capable of rendering a person debilitatingly ill on their own. Yet, there's more.
"When I got introduced to cannabis, within the first two weeks I was already out of my wheelchair. I felt like a normal kid again."
They eventually tried cannabis. "When I got introduced to cannabis, within the first two weeks I was already out of my wheelchair. I felt like a normal kid again," Coltyn said.
And he's got proof of the positive changes. "I [went from] 22 centimeters of inflamed bowel with skin lesions, with everything you can imagine—inflammation, ulcers, scar tissue, granulation lymphoma—to a normal colon; no active Crohn's disease, just using cannabis. So not only did cannabis treat the pain, which is important, but it also took care of what was causing the pain. It also helps with the RA and lupus I got from the [pharmaceuticals]."
(Courtesy of the Turner family)
Coltyn is now 19 years old, having been on cannabis for five years. And his Crohn's is in remission; they report hardly ever having to go to the doctor these days. He still occasionally gets symptom flares, but is able to control them by upping his cannabis dose during those times. They've a great handle on it these days, but they say there were some challenges early on.
Wendy said the main challenge is dosing and ensuring that Coltyn gets the right amount of cannabinoids without getting high. "We are constantly like, 'How are you doing, how are you feeling?'" she said. "He must be really, really sick of it."
But Coltyn isn't phased. "Yeah, I am, but at the same time it's very important because a lot of patients don't really know their dose, especially earlier in their cannabis treatment, and you're changing it pretty frequently," he said. "When I first moved out of Colorado to start cannabis treatment, we kept a journal and wrote down every little thing that happened: what I ate that day, how many times I went to the bathroom–if I had a stick of gum, we wrote it down. Unfortunately that's the only way to develop a regimen for people, through trial and error, trying everything under the sun until you find something that works best for you."
Wendy shares that there were some learning curves on their path. "Sometimes we mess up. For instance, now we know to never give a Crohn's patient THCV."
Coltyn adds, "What we know about THCV is that it's an appetite suppressant. For someone with a wasting syndrome, that's not a good cannabinoid to have. But we didn't figure it out until I lost 10 pounds. That's the struggle with there being no research or anything."
As far as medicating during school, Coltyn said, "Fortunately, I've been homeschooled my whole life, but there are kids who are having trouble having medicine in school. A lot of the time they aren't even allowed to have it 200 or 1,000 feet from a school. There are kids with seizures who go to public school, and if they need a rescue med, they have to have their parent come to school, pick them up, drive off campus, administer it, then bring them back."
Wendy said that legalization has affected this issue negatively. "These newly legalized states emerging and creating regulation issues in schools with zero tolerance laws. Coltyn attended school for 38 days and we took him out because we couldn't deal with it. There's not a feasible option for it, not even in college."
She added that there is a student suing their school over this issue, and said it's crazy that pharmaceuticals, which can kill you if abused, are allowed in school, but cannabis isn't.
Wendy said that without interstate commerce, medicating can also be a challenging task when getting medical care. "Every person who has a medical card is a prisoner of that state," she said. "Most of Coltyn's doctors are across state lines in Missouri and the second we cross that state line, Coltyn is illegal. And if he were to break his arm or something, I would have to tell them that he's medicated with THC. And I cannot give him those meds for Crohn's disease if he were to have to stay in the hospital for this broken arm for more than a day. So, there we go, into a flare with his Crohn's disease."
When asked if they've faced much judgement for medicating Coltyn with cannabis, they happily report that they don't. Tracy shared that it probably has a lot to do with her being an intimidating mom, ready to get into the facts and statistics with doctors and other medical professionals as needed.
(Courtesy of the Turner family)
And their advocacy for cannabis doesn't end there. The Coltyn Turner Foundation is focused on research and raising the funds to get it done–their first project is a survey of Crohn's patients using cannabis, which is aimed at getting solid data on how it's working in their systems that can be used as a resource for other patients. "I felt like it was important, Coltyn said. "All the time I approach doctors and patients who don't know that cannabis works, and the one thing they say is 'there's no research.'"
His mother added that that isn't the whole truth, "One of the problems we have in the states is our ego, especially with these doctors who say 'there's no research,' just because the research isn't coming from the US, which has to go through the DEA and other enforcement agencies," which, of course, aren't big fans of approving studies with Schedule I drugs—an infuriatingly circular dilemma. But Coltyn's up for the challenge.
"When the government doesn't do something right, the people have to do it themselves," he said. "I'd rather be illegally alive than legally dead."
---
What it's like to be a parent who medicates with cannabis
Meg Hartley for Leafly
Published on June 14, 2019 • Last updated September 24, 2020
If you're someone who has a strong affinity for the cannabis plant, you're likely familiar with being judged for it.
But when you need it medically, this judgement can cause more harm than an awkward moment. When people make negative assumptions about what life is like for someone who medicates daily with cannabis, it can lead to things like job and home instability.
If someone, say, thinks that your chronic illness is actually a result of wanting to get high all day and be lazy—which it can look like, since illnesses demand rest—you aren't likely to get the support that these illnesses demand.
"My ex-husband sued me for custody of our son, citing my medical marijuana patient status as a reason that I should lose him."
And when you're someone in this situation who's also a parent—well, that's a whole different level of inappropriate punishment due to a plant.
Jessie Gill, Registered Nurse and founder of Marijuana Mommy is someone who's had all too much experience in this realm. As a public cannabis advocate and parent, she's unfortunately dealt with a whole lot more than dirty looks.
"My ex-husband sued me for custody of our son, citing my medical marijuana patient status as a reason that I should lose him," she says. "Fortunately, I'm in New Jersey where patients have more protection than other regions, but my son has been the victim of many cruel comments about me because of my medication."
Perception around cannabis is quickly evolving. Yet even in legalized areas, parents often aren't included in the changing perceptions of cannabis. The prevailing presumption often seems to be: If you're using cannabis when a child is awake and under your care, then you're putting the little one in harm's way. But your medical condition doesn't care what your kiddo is up to. You will have to combine cannabis and parenting. It's inevitable.
The thing that people don't seem to realize is that having a chronic condition can severely and negatively impact one's ability to parent, and pharmaceutical medications often come with side effects that exacerbate this problem. In many cases of chronic illness sufferers, cannabis is the option that yields the best ability to parent.
For Many Parents, It's Really the Best Option
Jessie suffers from a spinal injury and nerve damage in her neck, head, throat, and right arm. It causes mobility issues and constant pain, to the point that even holding her head up is excruciating. If she doesn't medicate with cannabis, she's completely debilitated and on bed rest. It was hard for her to go anywhere or do anything—even just watching her kids' activities was too much.
Before cannabis, she had to medicate with opiates, Valium, Lyrica, as well as several other meds—a combination she says resulted in destructive consequences. Between the depression, fatigue, and stomach issues, she was barely even existing at all. She felt hopeless.
She's grateful that cannabis relieves her pain, allowing her to fully engage with life again. She says, "Thanks to cannabis, I'm able to be present for my children. I can engage in their activities and enjoy time with them again. I can go places. I can sit at the table and play board games."
"My five-year-old daughter has ADHD, and cannabis allows me to be more intuitive and compassionate while parenting difficult situations."
Another mother familiar with this situation is Stefanie Taylor, who agrees that cannabis makes her a more present parent. She is a cannabis advocate who suffers from anxiety and Mixed Connective Tissue Disease, the latter of which results in widespread muscle pain and fatigue. Sitting or standing for an extended period is very painful, which can make the physical demands of parenting feel impossible, especially on top of her full-time corporate job.
Before cannabis, she was taking a monthly infusion of a biologically modified immunosuppressant, which made her weak and tired. But with cannabis, she's able to handle the physical demands of parenting, adding, "I also feel that while I'm using cannabis, I'm a more patient parent. My five-year-old daughter has ADHD and I think cannabis allows me to be more intuitive and compassionate while parenting difficult situations."
To Hide or Not to Hide
Both mothers are advocates of cannabis who generally don't hide their use from others.
Stefanie says she feels frustrated that cannabis still has a negative social stigma, adding, "I also feel motivated to be an example of how cannabis can be used while parenting in a responsible and effective way."
With Jessie's position as a nurse, she says, "I feel a deep ethical obligation to share my story and to share information about the benefits with other potential patients—so I don't feel like hiding it is an option."
Conversely, there are many who feel that hiding their cannabis use is the only option. Kevin from Chicago says that sharing his medicating with others would leave him open for custody issues. His wife and trusted friends know, but he keeps it a secret from everyone else to avoid judgment as a parent or in other ways.
When asked if it's safest to hide his use from other adults, he says, "Always. As much as I'd like to say otherwise, nobody should know. You never know when it can come back to bite you."
Talking Cannabis With the Kids
Kevin includes his stepson in people he doesn't tell about his medicating, being careful not to smell like cannabis around the 11-year-old. But Jessie and Stefanie's kids are aware.
"Our children are our future. Teaching them the real benefits and the real risks of cannabis is how we change the stigma."
Jessie says her kids were very different ages when she became a patient. "My daughter had just started college, and my son was in third grade," she says. "My daughter was a little freaked out at first because of the stigma, but after watching me suffer so much, she was also hopeful for any solution. Seeing my remarkable medical results made us all realize how incredible this plant is. For my son, it was different. He hadn't been exposed to the stigma yet. I knew I had to prepare him for the nonsense he'd hear in school and the hatred he'd encounter from others."
Jessie also worried that if she didn't tell her kids, they'd find her medicine and be afraid that she was doing something illegal. She adds, "It's extremely important to educate our kids about cannabis at home, because they are not receiving accurate information at school. Our children are our future. Teaching them the real benefits and the real risks of cannabis is how we change the stigma."
Stefanie's daughter is only five, so she approaches the matter in a way that makes sense to her. "My daughter is aware that I use cannabis to help relieve chronic pain," she says. "I talked to her about cannabis as a plant and how the flowers are the medicine. She knows not to touch someone else's medicine (pharmaceuticals, too). I keep all of my cannabis products out of reach. I know there will be more mature conversations as she ages."
She adds that her kiddo's knowledge has caused an awkward moment or two, saying, "I've never asked my daughter to not discuss my health or medication with other people, although I considered it after she confided in a stranger at a restaurant!"
Clearing the Smoke on Stigma
These cannabis patients are working hard to keep their health in balance so they can care for their children. Stigma around cannabis use has real consequences, especially for patients—and even more so for patients who are also parents. The people in this article are responsible adults, hardworking parents who deserve to be treated with compassion, and, frankly, some common sense.
People who are unfamiliar with cannabis need to know that the reality is nothing like what it is on TV, and it's also not like "that one time they did cannabis and it was totally crazy." The experience stops being crazy pretty quickly, especially when you're using it to medicate. If you have pain all over your body and then something takes that pain away, you're able to think better, even if it is at a slightly different angle.
Also, have those who judge ever taken a strong painkiller? Do they think (and goodness, they must) patient parents ought to be taking Oxycontin all day? And let's not even get started on the "wine mom" phenomenon. People have been medicating with cannabis since the beginning of history—it's a valid medicine.
---
Here's what symptom relief with cannabis feels like for medical patients
By Meg Hartley
Published on May 14, 2020 • Last updated July 28, 2020
Being a medical cannabis patient often means knowing two worlds—the symptom-ridden world of being in need of medication, and the world of bodily woes dramatically reduced. Because the endocannabinoid system works with other systems throughout the body, cannabis is able to lessen or even eliminate painful health conditions for millions of patients around the world.
I'm one such medicator, and I often find myself describing the sensation of how cannabis changes my symptoms of illness with illustrative language. I wondered how other medical cannabis patients describe the before and after of symptoms, so I reached out to other fighters of a variety of health conditions for some insight on how it feels for them.I discovered that I am far from being alone in understanding that magic moment of relief. From CBD giving one woman back her ability to drive and to dream (not at the same time), to one man's sudden insight into how Popeye must feel when spinach gives him that pep, this plant is helping all kinds of people, in all kinds of ways.
Mary, CPTSD, Anxiety, Depression, Arthritis, age 36, Portland, OR
"Before MJ I often feel stuck ruminating on a subject. Cannabis frees me from repetitive thinking patterns and disrupts me to focus on something that feels good. Physically, my body feels less tight, and I am able to relax."
---
Does cannabis make you poo?
By Meg Hartley
Published on April 13, 2020 • Last updated July 28, 2020
Have you ever sat down for a nice session but after a few tokes suddenly have to get up to hit the bathroom? I noticed a connection so I asked the internet, which provided abundant anecdotal evidence, proving I wasn't alone in my pondering. After I started peeking into what science had to say on the matter, my curiosity only increased.
I did a deep dive into studies on the subject, as well as consulted a couple experts, and it turns out the connection between smoking a bowl and going #2 is no coincidence. Between cannabis calming our nerves, its effect on the gut's microbiome, and the endocannabinoid system being involved in the activity in this department, it looks like weed can, indeed, make us doodie.
Too stressed to go
I spoke with medical cannabis expert and integrative medicine physician Dustin Sulak, D.O. "Endocannabinoids absolutely do affect motility, both directly and indirectly. The most powerful way in which cannabis could help a person defecate is by helping them to relax and get into a more parasympathetic state," said Sulak.
Another way to think of a parasympathetic state is "rest and digest," with defecation being part of the digest aspect. This is opposed to the sympathetic nervous system, which prepares the body to act quickly. There is an evolutionary reason for not being able to poo while in a fight-or-flight state enacted by the sympathetic nervous system: "If we're escaping from a bear attacking us, we don't want to have to defecate," said Sulak.
He continued, "Conversely, when it's time to relax and empty our bowels, we don't want to feel threatened. That has to happen in a place where we feel comfortable. But, unfortunately, a lot of people are taking their stressors around with them, even into the bathroom, with their phones or just in their minds, remaining stressed out, feeling threatened in some way."
But cannabis, and endocannabinoids that our bodies produce, can help. "Our inner pharmacy's version of cannabis, the endocannabinoids, and herbal cannabis, have the ability to suppress this excessive sympathetic activity. So if the fight-or-flight response is turned on too strongly, the right dose of cannabis can suppress it. This is obvious to people who use cannabis to help them relax and find relief from anxiety. The same mechanism would allow someone to shift into rest and digest, or parasympathetic dominance, and get the job done," he said.
The Goldilocks zone
Endocannabinoids help keep the body in balance. One of those endocannabinoids, 2-AG, is an important physiologic regulator of gastrointestinal motility—i.e., pooping—and behaves like THC. "That's one of our body's signaling molecules that mimics THC, or THC mimics it. 2-AG is active in regulating the sympathetic and parasympathetic influence on the gut, and in the gut itself, where it suppresses excessive activity and brings the system into balance," said Sulak.
So in this way, cannabis could lead to a deuce by helping keep our nervous system and our gut in the "Goldilocks zone," or the healthy range of activity.
Cannabis can also help someone get into the needed relaxed state by relieving pain. "When people are in chronic pain, even if it has nothing to do with the rectum—if it's their foot or their leg or their head—that still creates a kind of threatening internal state. So it can be hard when in pain or feeling anxiety to relax enough to use the bathroom. Cannabis can be very useful for that," said Sulak.
Dr. Sulak concluded with a word of caution: "For people with constipation not related to stress or pain, cannabis could potentially worsen the issue because it can suppress muscular contractions and secretion in the colon, the same ways in which it can help with diarrhea."
More on cannabis and BMs
The endocannabinoid system (ECS) is also integral to the brain-gut axis, which modulates activity in this realm, including helping people poop. This 2016 study says that the ECS is "An important physiologic regulator of gastrointestinal motility," meaning bowel movements.
Foremost psychopharmacology researcher Ethan Russo, M.D., also told us, "A lot of people note easier bowel movements after cannabis. This can alleviate both constipation or diarrhea associated with irritable bowel syndrome, a presumptive clinical endocannabinoid deficiency syndrome. THC also positively alters the gut microbiome and this effect should not be discredited."
Additionally, a 2019 study found that cannabis consumption was associated with a 30% decrease in constipation.
So, if you've ever wondered if there's a connection between enjoying herb and needing to head for a #2—'tis not in your imagination. Next time you need a little help, maybe try sparking up a doobie so you can dookie.
Stay regular, friends.
---
The 'sleepy' cannabinoid CBN might not actually be sedating
By Meg Hartley
Published on June 25, 2019 • Last updated July 28, 2020
While working at a cannabis dispensary, I discovered the power of the body's endocannabinoid system (ECS), and how cannabinoids in cannabis—like THC and CBD—can interact with it to deliver a variety of stunning medical results. I'd also learned that the cannabinoid cannabinol (CBN) had a reputation for being a great aid to insomnia fighters.
At the time, cannabis laboratory Steep Hill reported, "The consumption of 2.5mg to 5mg of CBN has the same level of sedation as a mild pharmaceutical sedative, with a relaxed body sensation similar to 5mg to 10mg of diazepam." They're a widely respected company and this quote is all over the canna-net, so I bit.
I turned to a CBN product (a 1:1 CBD/CBN tincture, to be precise), which happily did seem to deliver comparable results to the pharmaceutical insomnia medications I'd been taking. Knowing that THC degrades and turns into CBN when exposed to elements like heat, air and light over time, I wondered if I could devise a more cost-effective way to make CBN medicines from regular ol' THC flower.
I figured if I left buds sitting in a dish by the sunny window, it might result in higher CBN content—thereby, a handy DIY sleep medication. After doing so for awhile, I hadn't noticed any differences in effect (just crunchiness), and so started digging to see if this was actually a feasible way to raise CBN levels.
But as I started digging into my DIY method, my objective (and methods—more on that below) quickly became questionable.
Things get murky on CBN and sleep
It turns out, though there are numerous products in the cannabis industry that aim to promote sleep via CBN the link between the two lacks scientific foundation. In fact, only one (well-cited) study has signified that this effect is in play, but the study is highly problematic.
The results point to sedation only when CBN was used in combination with THC.
In addition to questionable methods, the results point to sedation only when CBN was used in combination with THC—a finding that could be attributed to the phenomenon known as the entourage effect, wherein cannabinoids work synergistically with one another, as well as with other components of cannabis (like terpenes and flavonoids), to create a stronger effect.
So where did the supposed connection come from?
According to Dr. Ethan Russo, Director of Research and Development at the International Cannabis and Cannabinoids Institute, this might be due to people feeling tired after smoking old and/or improperly stored buds. He said that the sedating effects of aged cannabis are often misattributed to CBN because of the previously described degradation process that creates the cannabinoid. However, he says the sedative effects of old cannabis are more likely due to other components of the plant that change as cured cannabis ages.
He shared that old cannabis tends to be sedating due to a loss of monoterpenoids and a retention of sesquiterpenoids, which have a soporific (or drowsy) effect. He added that the addition of another cannabinoid, CBN in this case, to a cannabis sleep regimen may increase the aforementioned entourage effect—but that CBN hasn't been shown to be sedative on its own, and he contends that it is not more sedating than other cannabinoids.
Then why does CBN seem to work for some?
So, how come CBN products seem to work for so many rough sleepers? It's possible that CBN is working that entourage effect, being the perfect addition their nighttime cannabis routine. Or, the product-in-question may have also had additional ingredients that worked effectively (like sesquiterpenoids).
As is often the case in cannabis, there's a lot of research left to be done on this topic, but I did get my answer. Dr. Russo says, "Setting out cannabis in the sun is a good way to waste the monoterpenoid fraction and leave sedating sesquiterpenoids and CBN behind." (However, he thinks this is likely to take a significant amount of time, and does not recommend my method.)
We reached out to Steep Hill for comment on that quote comparing CBN to diazepam. They didn't reply, but did change their CBN text to read, "Initially, it was reported that CBN was a promising adjunct in the treatment of insomnia, but with the advent of a few small trials, sedative qualities have not been observed. Further study is required."
Cannabis is still a fierce sleep aid
For now, Dr. Russo informs us that the best known way to use cannabis for sleep is to combine THC with other sedating components, like the terpenes myrcene and linalool. He told us that cannabis isn't such a successful sleep aid because it's wildly sedating, but because it treats underlying conditions that are keeping people awake.
He emphasized the importance of treating what, precisely, is keeping the person from sleep. For instance, if you're incredibly tired, but your mind is racing a jillion miles an hour—you probably want a good dose of CBD for anxiety in your nighttime routine.
So, reflect on the things that keep you up (he said pain and spasms are two more big ones), and do some research and experimenting to find the best approach to treating what ails, allowing your bod to get the rest it needs.
And as for CBN, time will tell as to if this cannabinoid has any particular super powers—but the jury is still out on whether sedation is one of them.
---
How is a cannabis pill made? Its journey from seed to capsule
By Meg Hartley
Published on June 22, 2020· Last updated November 16, 2020
In the legal cannabis industry, getting a processed cannabis product can be just as mysterious as buying meat at the grocery store—conveniently packaged and unrecognizable from its original form. And while I appreciate a shroud of mystery around how pigs become sausage, when it comes to cannabis products, I'd actually really like to know how that sausage was made.
This wave of curiosity came to crest with my new favorite cannabis product: a little capsule called RA', named after the Egyptian sun god. I found myself wondering about the journey the plant material inside had taken: Where did its voyage begin? Did the person who grew it love their job? How did it go from trimmed plant all the way to handy capsule?
I traced my little cannabis pills back to their source and got to talk with some amazing humans on my journey. I found fascinating insights, industry scoops, and people who dedicate their lives to the plant we love.
While you might not want to think about how your sausage was made during breakfast, this is a backstory you'll love to have in mind when enjoying cannabis products. It is a very human industry, my friends; let's do our damndest to ensure that it stays that way.
Starting from seed
Our plant's journey starts at Sweet Sisters outdoor farm in Mendocino, Northern California, which is part of the Emerald Triangle, an area globally celebrated for its cannabis. Referring to themselves as a "family unit," they don't at all claim to be breeders. "The beauty of being a legacy farmer … is that we have had seedstock in our own possession for years, that we know can work well in our own microclimate," said the family unit.
They've been farming the same land since 1981, when the two farmers who started the family unit met at a nursery buying cannabis growing supplies. Since then, they've had plenty of time to learn their favorite cultivars, some that go back to the '80s—back when they used to have true indicas and sativas, before all the hybridization. They know the growth cycles of various strains, as well as important details like which seeds will be resistant to mold and powdery mildew, and which ones will grow into buds that they enjoy and prefer.
The planting process starts in mid-March by cracking the seeds, which will sex in 6-8 weeks. Then they enjoy watching all of the individual characteristics come out of each plant within the cultivar: "It's an honor and a pleasure to watch her grow," said the family unit.
Sometime in September or October, it's harvest time. After cutting the plants, it's time to cure; watching the humidity and heat, it's done in about two weeks, depending on each individual plant. They leave it on the branch so it finishes its final cure and holds better until it can get to the trimmer's bench. Then they do some paperwork and it's out of their hands.
On the trimmer's bench
From Sweet Sisters farm, our plant heads to Root One Botanicals. They do many things at Root One, but our plant is here to get trimmed. The beautiful buds will be separated from trim, which RA' does not use in their products. But before it's time to work with the plant, there's paperwork to do.
Like many other legal states, California uses a program called Metrc to track each plant from seed to sale. Root One CEO Jon McColley describes the process as "arduous and boring" but also recognizes its importance.
Once harvests come in, plant material gets divided between A, B, and trim, depending on the bud's size, and waste (stems, etc.) gets tossed out. "It's segregation, separation, and manicuring; putting those tiered products into their proper place," said McColley.
McColley reports that the people doing the trimming dig what they do: "It's amazing what kind of enthusiasm it creates in a workforce … they love the work, being able to work around the plant day after day and just being immersed."
After our plant has been processed by the Root One crew, it's tagged and entered into Metrc, then heads out down to Long Beach, California.
The finished capsule
RA' Flower is our plant's stop before the dispensary, where it will be made into capsules. According to RA' Founder and CEO Alan Hoskins, "Once the flower is brought in here, we weigh it, and then I usually try and process it right away just for the sheer fact that cannabis starts the degradation process once it starts growing and being in the sun, and that's just the natural element. So it'll come into the building, and then we 'powderize' it," he said, explaining that they use a machine akin to an industrial food mill.
To turn THCa to THC, they blend up the plant and put it through a low heat decarboxylation process. According to Hoskins, the most important part is minimizing the degradation of plants and retaining "important plant constituents, like terpenes, flavonoids, all those wonderful things."
After the impurities are removed and it's powderized, "All you're left with is this really beautiful green powder, which is all flower, decarboxylated," said Hoskins.
The powder is then tested for potency and terpenes, and Hoskins' wife, Ashley, takes it away to put into capsules, using a manual machine called an encapsulator, which halves the capsules and puts them back together after they've been filled by hand.
Once capsuled, it's packaging time, and, of course, good ol' Metrc comes into play here as well. "When [the flower is] brought into the building it has to be entered into Metrc; when I take that flower, and I go to process it, I have to put a new tag on it [for Metrc]; once we decarboxylate it and activate it, it has a new tag; once I put it into packaging, it has another tag," said Alan, laughing. "So, yeah, it's very cumbersome. But, you know, it allows the state to really see where every product goes so if there's a recall on something, they're able to reach out."
The Hoskins' came from the healthcare industry so they're used to regulations, but not accustomed to the chaos of the cannabis industry. "It's not an easy business to navigate. It's over regulated, it's overtaxed. You know, when there's 38-40% tax, and people rely on this for medicine, that only helps the black market thrive," said Alan.
But to them, contributing quality cannabis makes the industry worth it. "It's about getting a super high-quality product to market, to people who need it. And this is the future of medicine, no doubt," said Alan.
The other folks involved in the capsule's journey expressed similar sentiments about the fine art of bringing cannabis to the world. "If there's just one thing that [readers] should be aware of, it's that every one of those buds they are consuming has been picked up by loving hands and just been cared for," said McColley of Root One. "This is the worst get-rich-quick scheme in the history of mankind. The people are doing it because they love the plant and they know that this is something bigger than all of us."
---
How to tell legal from illegal cannabis dispensaries in California
By Meg Hartley
Published on February 20, 2020· Last updated March 8, 2022
On January 1st, 2018, recreational cannabis became legal in the state of California, after over two decades of medical-only legalization. Over the next few months, some dispensaries would go from having cannabis out on the counter for people to smell and inspect to only having pre-packaged and sealed cannabis. Free deals for newcomers would vanish. Prices skyrocketed. And high taxes were added on top of that, adding up to over 40% in some counties.
But at other dispensaries, prices remain just as low as before. You can still inspect the buds up-close, probably see them weighed, and they'll likely even give you a free joint just for discovering their shop. So if you're a patron just looking for a place to get a price-conscious bag, it'd be an easy decision to choose between the two types of dispensaries in California—who picks expensive and uptight over reasonably priced and chilled-out?
However, if you were to choose that second shop, you'd be breaking the law—it's an unlicensed illegal dispensary. So how are cannabis lovers in California supposed to know which is which? And, does it matter?
Legal compliance in the Wild West of cannabis
In California, the amount of unlicensed illegal cannabis dispensaries is estimated to be over 3 times higher than the amount of legal ones. Between a bureaucratic nightmare with licensing, including stunning fees, limited availability, and other issues, going legal in California isn't easy or cheap. This has resulted in a state filled with dispensaries that were previously legal for medical patients but are now illegal.
Many people risked everything they had to start a legal business, but the cheap illegal competition has meant the ruin of their legal businesses.
There are many other benefits in supporting legally compliant dispensaries. Adam Hijazi, owner of the legally compliant Long Beach Green Room, said, "When you buy legally, you're getting a far better product. You're getting better customer service, facilities with security, with cameras, and with guards." He also noted that legal shops tend to offer more stable jobs that pay better, and that the immense taxes legal dispensary owners pay are invested into the community.
Another huge issue is testing for safety and content. Alex Traverso, Assistant Chief of Communications for the Bureau of Cannabis Control (BCC), shared with us that just two weeks ago they tested cartridges from 45 illegal shops—and a whopping 75% of them failed the vitamin E acetate tests, meaning they contain the commonly cited source of the vape crisis. Traverso commented, "I know I don't want to be taking that chance."
Luckily, there will be a quick way to know
Because many licensed dispensaries simply upgraded their old stores to become legally compliant, the differences between the two kinds of shops aren't always apparent to customers.
Aiming to make the distinction as simple as knowing if a restaurant's up to health code, the BCC created an emblem to be placed on cannabis business fronts.
Aiming to make the distinction as simple as knowing if a restaurant's up to health code, the BCC created an emblem to be placed on legal cannabis business fronts. These emblems have a unique QR code that pulls up the licensing information of the business.
If you haven't used a QR code with your smartphone before, it's really easy: just pull up your camera, hold it over the QR code, and click the notification that appears on your screen. Industry personnel in delivery and distribution will be required to have one on their persons as well.
If there is no QR code, try checking CAPotCheck.com where you can search by location, license type, and other handy filters. There is also an LA-specific map here.
Since the early months of legalization, Leafly has listed only licensed businesses. Licenses can be found under a dispensary's "Info" section.
In addition to the QR code emblems, there are also subtle ways of telling if a dispensary is legal, like asking about taxes and testing, or looking for visual cues. According to Traverso, "If you go into a shop and still see big bags and jars of cannabis on the shelves instead of individually packaged stuff, there's a good chance that it's not a legal shop."
He added that it's wise to know if a shop is legal before you get up to its door, or before leaving the house, if possible—once you're already at the shop, it can be awkward and time-consuming to adjust the situation.
Stay tuned and spread the word
Traverso says the QR emblems are becoming mandatory for all licensed businesses in coming months, and he expects no pushback. "The licensees that I've talked to want people to know that they are legit," he said.
Speaking to the extensive compliance demands, Traverso said, "Everything they are doing is to be legit. They want to tell the public, 'this is a shop that does everything by the book.''' He added that the QR emblems are really a badge of honor, a nod to all of the hard work these businesses have put into California's fledgling industry.
The program has already started to roll out and should be completed within a few months. The legally compliant dispensary owner we talked with, Adam Hijazi, already has his emblem, telling us that the program is off to a good start.
"I think it's very helpful that these programs are coming up. Even though at first it's going to be hard for them to recognize—of course it is, it's the first time this is happening."
Educating the public is never easy, and this is no exception to that rule. "Some patients or customers come in, notice it, and ask questions about [the QR emblems]—but really most of the time it's us talking about it, so that way they can notice it," Hijazi said. He says that this effort to educate the public is very much worth it, and that the California cannabis industry is worth it. "We gotta keep going at it. Insistence breaks the resistance."
So, California readers, is your favorite dispensary legal?
---
Cannabis can make you more creative—but it's complicated
By Meg Hartley
Published on May 3, 2019· Last updated July 28, 2020
Cannabis and creativity are often portrayed as linked, with their connection seeming culturally agreed upon. From creativity-themed cannabis products, to stunning hand-blown bongs, artist testimonials, and the popularity of "puff and paint" art classes, anecdotal evidence overwhelmingly says creativity and cannabis are kindred indeed.
But people have a lot less to say when it comes to the why's and how's behind this commonly-accepted phenomenon. Is the link between cannabis and creativity authentic? Here's what current science has to say about it.
Blood to your creative bits
Research has revealed that creativity is associated with the brain's frontal lobe, and that cannabis consumption increases cerebral blood flow (CBF) to this area, which makes it more active. As reported by Jasen Talise in the Berkeley Medical Journal, experiments done in 1992 found that CBF increased after cannabis consumption. (These findings were confirmed by further research done in 2002.)
Talise spoke with Alice Flaherty from the Department of Neurology at Harvard Medical School, who said of CBF, "When subjects with high and low creativity are compared, the former have both higher baseline frontal lobe activity and greater frontal increase while performing creative tasks."
Such activity stimulates creative output in two ways. First, it activates the area near the brain's nucleus accumbens, which Flaherty found correlates to increased creativity. Secondly, the frontal lobe serves as the headquarters for something called "creative divergent thinking."
Divergent thinking vs. creativity
Divergent thinking is a common scientific measure of creativity. It is a type of thinking that explores many possible solutions and typically occurs in a spontaneous, free-flowing, non-linear manner. Put in other words, divergent thinking employs methods like brainstorming, creative thinking, and free writing to come up with outside-the-box ideas.
For an example of why scientists connect this kind of thinking to cannabis use, we'll quickly travel back to 2001. In high school, a friend of mine's room was a 420 oasis, home to many people's early cannabis experiences—and the walls were covered with evidence of this exposure, thoughts scribbled in marker, so creative I can still remember a few nearly two decades later:
"I feel like I'm running through Jell-O."
"Levametation."
"I'm a butterflyyyyyyyyyy." (Drawn in the shape of butterfly. Author may have been involved.)
When it comes to cannabis and creativity, dosage is key.
"Levametation," the word in the second example, was created for a decidedly outside-the-box game show proposed by its author. It combines "levitate" and "elevation" to describe a process in which cannabis smoke would hang in the air after rising from the floor below, subtly smoking out the contestants. (Cleverest whilst unwittingly stoned wins!) So in this case, divergent thinking came in the form of brainstorming various names to describe an invented process that's as dubious as it is imaginative.
In day-to-day life, divergent thinking is commonly employed whenever you list numerous possibilities to come up with innovative options; from how to raise Q2 fiscal earnings, to how best use that Costco supply of albacore tuna. Or more broadly, you use divergent thinking whenever you're working to open your mind in various directions and to new potential solutions. We'll go over a few widely-referenced studies that measure this kind of thinking to discern how cannabis use affects creativity.
Low doses help, big doses hinder
Leafly covered one such study in 2014; it concluded that when it comes to cannabis and creativity, dosage is key. The study found that in low doses (5.5 mg THC), cannabis slightly improved two aspects of divergent thinking: fluency, or the number of responses provided, and flexibility, or the variation in answers.
And, not surprisingly, scores were significantly raised for originality, or the uniqueness of responses. However, when the dose was increased to 22 mg of THC, scores were markedly lower in most categories. (Elaboration, or the amount of detail provided in explaining a response, was low all around—but was slightly higher in the placebo group.)
Getting low creatives high
Another study done in 2012 divided participants into high creativity and low creativity groups, then tested them both sober as well as under the effect of cannabis. The researchers had participants bring their own cannabis, so keep in mind that some variation in potency and chemical composition is to be expected here. Cannabis had little effect on the high creativity group, but after partaking, the scores of the low creativity group were actually boosted compared to those of the high creatives.
Basically, this study found that if you're not already creatively skilled, then cannabis might help you to get creating. And if you're already creative, this study says cannabis isn't going to affect your creativity very much.
A chicken-and-egg situation
The results from this final 2017 study suggest that the people hanging out in my friend's marker-covered bedroom may have been more creative to begin with. It found that cannabis users both self-reported being more creative as well as veritably scoring higher when their creativity was tested.
However, the study also tested personality types. It used a popular measure called the Big 5, and found that cannabis users scored higher on "openness to experience." Because this measure reflects high creativity and imagination traits, these findings lead the study to conclude, "While cannabis users appear to demonstrate enhanced creativity, these effects are an artifact of their heightened levels of openness to experience."
These results pose a bit of a chicken-egg dilemma: does cannabis use improve creativity or do creative people just tend to like cannabis?
In the end, see what works for you
As with other areas of cannabis research, there's a lot of work to be done in regard to studying the link between cannabis and creativity. But, in summary, research suggests:
Cannabis increases cerebral blood flow, which points to stimulated creative output.
However, too much THC can actually hinder creativity, while a smaller dose has been found to help a little.
Cannabis can make less creative people more so, but has little effect on those who are already creatively advanced.
There are more creatively advanced people within the population of cannabis consumers.
In the end, scientists don't have a hard conclusion on this very abstract matter. So if you're already creative and attest that cannabis does further increase your ability, or if you do your best work after 20 mg of THC, then how scientists predict you'll score on a specific verbal fluency test isn't particularly relevant.
Do what works for you. And if you're still figuring out how cannabis affects you creatively, try playing with different dosages, creative activities, strains, and environments to see if cannabis can help you tap into your inner artist.
---
Cannabis Church Founder Runs for Indiana Governor
By Meg Hartley
Published on September 4, 2019· Last updated July 28, 2020
Bill Levin is what some might call a character. Instead of the customary "Hello?"⁠ when answering the phone, Levin exclaims, "Hi, I love you, Bill Levin here!"
During a phone interview with Leafly, he expanded on his unique greeting: The first time, they seem to think they've encountered a lunatic; the second time, they warm up, at least giving a normal greeting in return; it's a little warmer by the third; and by the fourth time, almost everyone says it back.
Saying "I love you" has the power to connect people in a world that so badly needs it. This love-driven view of change is what motivated him to start Indiana's First Church of Cannabis, where he is the self-titled "Grand Poobah."
The church has 50K followers on Facebook, including 1,000+ folks who attend Wednesday services both in-person and worldwide via streaming. These "Cannaterians" operate under a set of rules titled "The Deity Dozen."
Among other things, the list decrees that Cannaterians use cannabis as a means to heal and develop community, to help others come to their defense, and to quietly contemplate life. It's pretty darn hard to argue with.
From Grand Poobah to Governor Candidate
Levin is currently running for governor of Indiana. His values carry over to his political ambitions, which started long before his current campaign. His first political run was as a Indianan teen—an acquaintance running for Campus Council President was violating the first of four words of the Deity Dozen: "Don't be an asshole." So Levin ran against him.
His campaign was a smash success, though he may have had a little help from mind-altering substances. Not long before the election, he put LSD in a coffee pot at a school event, leading many students to ditch in favor of tripping balls at a movie theater, watching the 1971 hit Omega Man. Though he got away with these hijinks, his early political career was cut short when he got his girlfriend pregnant and they were kicked out of school.
After several decades of managing punk bands and being a small business owner, his political ambitions returned in 2011. He ran for City Council, reporting that he earned about 11% of the vote, which is considerably better than how other Libertarians usually fare (less than 1%).
He gave politics another shot with a run for Indiana State Representative in 2014, earning 10.8% of votes. Now, he's going big, aiming to take down the incumbent Governor, Eric Holcomb, who was Lieutenant Governor under Mike Pence, the current Vice President.
A Race Likely to Be Canna-Centric
Indiana is a completely cannabis-illegal state. But an October 2018 telephone poll of 604 randomly selected Indiana adults found that 39% favor allowing cannabis to be used for any purpose, and 42% prefer just medical use⁠, totalling a whopping 81% of Hoosiers for legalization in some capacity.
Since Levin is running as a Libertarian, he'll primarily be competing for votes with whomever the Democratic candidate will be. The favorite to win is Woody Meyers, a former Indiana health commissioner and millionaire venture capitalist who is for decriminalization and medical use but not recreational use.
Levin's other two opponents are also pro-cannabis: Karlee Macer for medical use, and Eddie Melton for full legalization.
This race looks like it's going to be featuring cannabis.
Other Indiana officials are also in line with cannabis. Republican House Representative Jim Lucas said that during a trip to Colorado, he tried as much cannabis as he could to see if it was dangerous, coming to the mighty conclusion: "It was the best night of sleep I've ever had."
Eric Holcomb, the incumbent, is less excited and quoted as saying, "I've asked the federal government to enforce the law as it is, and I've let them know that we're a law-and-order state."
High Ambitions
Bill Levin, of course, plans to legalize cannabis. He's been watching the states around him—Illinois and Michigan are newly recreational, and Ohio is newly medical—noting the ways he'd approach legalization differently, like keeping prices reasonable and ensuring that organized crime is kept out. And he emphasizes it's crucial residents are legally able to grow their own bud.
Levin is also passionate about caring for homeless residents and intends to use the Governor's Mansion for a homeless resource center and shelter. He also plans to focus on education needs, with an emphasis on teaching practical modern skills like how to make digital apps.
He also wants to focus on using physical expression, like yoga, instead of practices like study hall and detention, which only waste time and increase frustration. Some schools are already successfully using mindful approaches instead of detention. He's planning to meet with a large group of teachers next month, for consultation and brainstorming.
These ambitions might sound like pie in the sky, but they're actually pretty grounded. If politicians truly care about expanding the middle class⁠—the one thing most of them claim to agree on⁠—their lifestyles ought to reflect that, at least to some extent. One man living in 10,500 square feet of house is the polar opposite, isn't it?
Plus, times are also changing: 10 years ago, legalizing cannabis felt like a fantasy, but now it's considered to be just a matter of when. And only five years ago, no one thought a democratic socialist could be taken seriously, but now ol' Bernie's got a real shot at the presidential nomination. Third-party runners like Bill Levin, game-changers like Bernie Sanders, and oddball visionaries like Marianne Williamson represent schools of thought in need of representation.
Levin's First Church of Cannabis was the unintended consequence of the 2015 Indiana religious freedom law, which was created after a bakery refused to serve a gay couple. In this same vein, politicians like Bill Levin, and the changes they bring with them, are the result of ideological opposition, which has gotten mighty loud.
With the mind-opening effects of cannabis, hopefully its legalization will bring some less conventional, but more functional, approaches to our politics.
And one last thing, before you go: I love you.
---
6 stoney yet productive self-isolation activities
Meg Hartley
Published on March 20, 2020 • Last updated April 20, 2022
We've entered a strange time, one where staying at home all day isn't being lazy—it's being responsible. Hopefully, we'll be on the other side of this in a couple weeks, but even in this age of well-written television, weeks of Netflixing will make anyone feel bajiggity and zonked out.
To prevent us all from coming out of this as boring-ass zombies, we've compiled a list of activities that are fabulous to enjoy paired with cannabis, as well as capable of helping us to, well, be better.
Between taking up qigong, learning the ancient art of tarot, finally downloading Duolingo to learn a new language, minimalizing your space, and an artillery of creative activities—this list will keep you from being bored during Coronapocalypse, and you might even come out of it as a better human being.
All right, here are at-home activities to engage the body and mind that are also great when combined with weed.
Start learning qigong
The National Qigong Association describes qigong as a "mind-body-spirit practice that improves one's mental and physical health by integrating posture, movement, breathing technique, self-massage, sound, and focused intent." But you may come to think of it as "that fun thing that helps me calm the eff down."
It combines flowing movements with breathing exercises, making for a very chill activity that offers similar benefits as meditation, while also offering the body something to do and the mind something to passively focus on.
Use cannabis to further benefit from this practice by mindfully noting any discomfort that's relieved by it. Let it help you zero in on the sensations present in your body as you perform fluid motions, and enjoy how good it feels to stretch your bod and feel the tingle of qi energy in your fingertips.
As for where to head for videos, Steven Washington is an amazing teacher who offers lightness of spirit in addition to passion and knowledge—he's just a freakin' delight, really.
Download Duolingo (and learn what 'mota' means)
Okay, that word's almost definitely not going to be on this free app, not the fun meaning anyway. But it does offer language lessons in Spanish, German, French, Italian, Portuguese, and English. And it's pretty adorable too, making learning new words feel like a game instead of the rote-memorization monotony you might remember from high school.
Spark up your favorite strain for focus (or being entertained), and learn you some verbs and nouns. Bonus points for ending the night with a subtitled flick, or, you know, a few episodes of Dora.
Related
7 cannabis strains with mind-focused effects
Tackle the ancient art of tarot
Tarot cards are a great way of tapping into the wisdom of one's intuition and the energies at hand. It sounds pretty esoteric, but the cards are actually super helpful and surprisingly practical.
To get started, grab yourself a deck (online, or in a sanitized manner at a shop)—and get Googling. You'll quickly learn that the 78 cards represent aspects of life, from describing major themes (The Hanged Man is applicable here) to day-to-day elements—like falling ill and needing to rest, or working to re-establish routine.
Cannabis is a great match for Tarot because it tends to loosen your mental framework and helps us to see things from another perspective. You might find that it's helpful to start without cannabis and bring herb in toward the end.
Related
Cannabis can make you more creative—but it's complicated
First, draw your reading toke-free, then analyze what it means to you, noting your grounded thoughts. Then, revisit the reading after a great toke session, taking time to sit with each card and muse on how to integrate its advice.
You might be surprised at how your interpretation evolves and how the two perspectives meld together nicely. Tarot's the "what" of divination cards, so feel free to follow up with an oracle reading for the "how."
Deep clean your digs/Get minimal
It's time for that list of things you've been meaning to do around the house to vanish. It's important that you first line up the tasks at hand and any needed supplies before toking, especially if you have a low tolerance.
Once you're all organized, enjoy your favorite energy-boosting herb, then put on a playlist that gets you dancing—and just add cleaning! (Continuing to dance is very conducive to doing a good job, we promise.)
As you go about spiffing up your home, gather all the stuff that's stuffing up your digs to donate or toss. If you don't love it and/or use it regularly, it's out.
Get creative
Cannabis and making stuff are a dream team, especially when partnered with plenty of time around the house. A rather obvious, but nonetheless very fun, option is coloring—and there's all kinds of stoney themes out there.
You can also make yourself into a better artist by turning one of those pages upside down and drawing it bit-by-bit—an exercise used in art schools to help train the brain to see details properly. Or you could do a puff 'n' paint—Bob Ross is always a brilliant choice. (Happy lil' trees of all kinds welcome here!)
Whatever you do, remember that having a good time is the whole entire point, so don't get caught up trying to make something perfect.
Related
The best cannabis strains for sparking creativity
Self-care to the max
If there ever was an occasion for a THC bath bomb, this is it. If you're one of the gajillions of us who has been meaning to develop a better self-care regimen but have had trouble prioritizing the time, well, here it is. Perhaps you want to learn how to self-massage, dry brush, or check out baking soda and lemon (shockingly refreshing). Add apt cannabis products for a little more indulgence in the experience, and voilà!
And for you, self-care might have nothing to do with pampering in a traditional way, but doing something like getting high and finally reading all those books you bought last year. It could also be learning to cook a dish that you love, perhaps adding a fun stoney twist or infusing it with cannabis.
Self-care can really be anything that makes you feel nourished—but it definitely doesn't look like scrolling Twitter for the newest updates on you-know-what. Focus on things that uplift you both while you're doing them, as well as after they're done.
Look at us! We're all becoming so well-rounded already and saving humanity via self-isolation while we do it. Who says cannabis lovers don't get shit done?
Sending healthy + lifted vibes your way.
---
End-of-life hospital care in California could soon include cannabis
Meg Hartley
Published on October 3, 2019· Last updated July 28, 2020
Updated 10/24: On October 12th, Governor Newsome unexpectedly vetoed SB 305, citing conflicts between state and federal laws as well as potential loss of federal funding. He did so "begrudgingly," calling the federal government's position on cannabis "ludicrous."
The awkward legal-ish status of cannabis is something that affects many. And out of those, perhaps terminal patients are the most in need. When someone is painfully dying in a hospital, they are generally pumped full of drugs that often leave them barely conscious, or fully asleep.
Ryan had stage 4 pancreatic cancer that had reached the point where he needed professional care, but his only option to treat the intense pain was morphine, and even fentanyl—which is up to 100 times stronger than already-potent morphine⁠—leaving him barely conscious, or asleep. The last days of his life were being stolen, and he wanted all the coherent time he could gather to spend with his 9-year-old son.
So Ryan asked his father, Jim Bartell, to get him off the pharmaceuticals so he could function in some capacity during his last days. Jim located a hospital that would allow cannabis, and Ryan was promptly transferred to it. On the first day that Ryan was allowed cannabis, they had to spray a tincture under his tongue because he couldn't even swallow.
But by the next morning, he was reportedly alert, talkative, and pain-free. Ryan was able to spend his last two and a half weeks of life chatting on the phone and taking visitors—connecting, laughing, and taking the precious time to say goodbye.
But Jim Bartell's mission had just begun
Ryan Bartell passed away on April 21, 2018, but Jim wasn't done with this issue. He drafted a bill that would allow terminally ill patients to use medical cannabis in hospitals.
Ryan was able to spend his last two and a half weeks of life chatting on the phone and taking visitors—connecting, laughing, and taking the precious time to say goodbye.
In an interview with Leafly, he shared that as President of a San Diego firm that handles things like government PR, he'd been prepared for this mission—he'd already reviewed hundreds of government bills over the years.
After three long months of research and another three weeks of drafting, he took SB305 to Senator Ben Hueso at the end of 2018. Sen. Hueso agreed to sponsor it, and Jim and his staff continued to work together near daily until SB305 was submitted in February. Much of the pushback came from the California Hospital Association, who feared that they would lose federal funding as cannabis is still federally classified as a Schedule I drug.
But they worked through the opposition, drafting the bill so if the government were to change position and enforce federal prohibition against cannabis—then that hospital would be suspended from compliance.
And on September 11th, 2019, the California State Legislature unanimously approved their Senate Bill No. 305, which was aptly, and powerfully, titled "Ryan's Law." It's now on its way to California's pro-cannabis Governor Newsom, who is expected to sign it in the coming weeks. If all goes as predicted, it will come into effect on January 1st, 2020.
This means that starting next year, terminal medical cannabis patients with a prescription will be able to use cannabis in forms other than smoking/vaporization in hospital care. Cannabis will be procured by the patients, not the hospital. Hospitals will not be allowed to interfere with its administration, but will be allowed to help if needed.
Next steps for Ryan's Law
Jim doesn't plan to stop there. He says that this issue is affecting people like Ryan, and the people who love them, all over the country—so he's doing something about it. First steps are to take on the geographically (and politically) close states of Oregon and Washington. And now they'll only have to amend the bill with state-specific health codes instead of starting from scratch. Hopefully these states align quickly, and others as well.
Medical cannabis may be legal in many places, but patients in need of this medicine still face obstacles in terms of using it when and where they need it. While the chronically ill and those still in the fighting stages of diseases aren't yet protected, this is an encouraging step in the right direction.
While some other states have on the books that they allow cannabis in hospitals, this will be the very first law that requires allowing it. Finally.
Even with such strict laws in place, a massive library of studies supporting the power of medical cannabis have amassed over the decades. It's beyond time that medical cannabis became more accessible.
---
Seniors, it's okay that you still love cannabis
Meg Hartley
Published on February 7, 2020 • Last updated July 28, 2020
When people think of cannabis consumers, the first image that usually comes to mind is someone in their early 20's—that fun time in life. But today's older adults are the people who created the foundational cannabis subculture for the industry that exists today. And some of them never stopped toking! (Why should only one part of life be the fun time?) Others put it aside while raising children, then returned once their responsibilities let up. And still others know it as a wonderful remedy for their many ailments.
We caught up with some of our elder cannabis fans, getting their perspective on matters of today, and some great tidbits from times past. Read on to find out (or remember) what a 'lid' is, munchie memories of the '60s, and lots more.
Paula and Ken Hale, 71 and 70, Monmouth, Oregon
Paula and Ken are a married couple residing in Oregon, living in a picturesque country home with several towering cannabis plants growing in the yard. Ken reports that he's been using cannabis for 50 years, mostly recreationally, but currently uses a CBD balm on his knees and back, as well as edibles for sleep.
However, Ken says that he also has a great time with it. "Cannabis lets you notice one form of sensory input and really let it all in. It makes me feel more comfortable in my own skin. Like I can't dance, but when I smoke marijuana it makes me feel like I can—and I almost can!"
Paula's mostly uses cannabis socially, saying, "When we have friends over I just have one hit on the pipe and I feel like I had three cocktails—we laugh and laugh, and it's so much healthier!" They like using a pipe when friends come over, and often when they're hanging out at home together in the evenings.
Since they grow their own cannabis, they've also got plenty to share. Ken makes a lot of CBD cookies for medical needs of loved ones; a friend of theirs actually used them to get off of opiates, now able to sleep through the night with only a cookie for aid.
Though they're happy with the current state of canna-affairs, they are shocked at the prices of cannabis these days. Ken remembers that he bought a lid, which was slang for about an ounce of cannabis, for $10. He says, "People now call it the 'good old days' because of that, but they weren't the good old days—it was illegal! We were always worried, and now you drive down the road and there's signs—'NEED WEED?'—I'd have thought that was heaven back then!"
Ken started smoking in college, during the '60s, sharing that people mostly carried joints at the time, but sometimes at parties someone would bring out a bong. Though Paula and cannabis didn't hang while her kids were still growing up (picking it up again when she met Ken), she was introduced to cannabis while she was in college, in 1966. She told us that it was usually 8-10 people sitting around listening to all the great music from the 60's, just talking and laughing.
When asked for their favorite munchies of yore, the two were quick and decisive in answering. Paula's was rather inventive: a can of Spanish rice and a can of refried beans, served on a tortilla (warmed directly on the stove burner). And Ken's: "Jack in the Box's hot apple turnover, vanilla milkshake, combined!" He shared that once the guy at the Box asked if they had the munchies and they responded, "If it weren't for munchies, you wouldn't be in business!"
Though Paula's kids didn't know her as a cannabis fan growing up, legality and adulthood have made it a family affair. The first time they all did it, they'd gotten together for dinner and Ken said, "Want to smoke a joint before dinner?" And one of the adult children replied, "This is just too weird." But they did it nonetheless—and it was a great experience.
They say now it's pretty normal, passing a pipe around while hanging out playing games or vaping at Christmas.
Carol Sturm Smith, 81, Jamesburg, New Jersey
Carol is another person who blends medical and recreational cannabis use, but she says these days it's mostly medical. Between a bad back, symptoms from surgery, a couple of collapsed discs, a hurt rib, arthritis, and more—cannabis has got its hands full.
"Cannabis heightens music, and it makes me feel good. It makes me feel alive, it makes me want to get up and out of bed. And at this point that's what I need."
"I'm stable, and part of it is because four years ago I was able to get my medical card and become legal," Carol said. "It helps everything, including the depression. But mostly what it does is helps me by giving me something I can concentrate on so that I forget about the pain."
She started enjoying cannabis in 1961 while living in New York. She had an easy connection to get cannabis until she left the city in 1981, but since she was in nearby New Jersey, she'd just take a quick trip into the city to get what she needed.
That stopped around the turn of the century, leaving her with only sporadic cannabis connections—but her passion for poker saved the day. After she joined a game with some young people—"poker kids," as she fondly calls them—she "found a source for some supply." Then, four years ago, legal medical cannabis really started hooking her up.
Carol recalls the first time that she tried medical cannabis. "It was so intense. The first day I came home and smoked on my porch legally, the first thing I did was to go inside and write a letter to the dispensary asking if they had a position in the garden."
She says she was blown away that there are people fighting for legal cannabis. "This magnificent movement around the country to make nature's miracle pain medicine available…I never thought I'd live to see it happen. It is just wonderful."
And she wound up becoming one of those people fighting for legal cannabis. After discovering that she went to high school with one of the organizers, she joined the New Jersey cannabis community last November. She went to a social event with the group and it was the first time in 20 years she had smoked with people who were used to smoking.
"For the first time, I was in the company of people who were not only using marijuana medically, but were fighting actively for homegrown and other aspects of legalization that should be the right of everyone, and isn't."
They gave her her very first dab, and she proved to be a champion. "I took an enormous inhalation and everybody was astonished and labeled me 'Sturmella Iron Lung' on the spot," Carol said. ('Sturmella' is a nickname that comes from her maiden name, 'Sturm.')
Though friends her age are generally tolerant of her use, she doesn't yet get to share her love of cannabis with many of her peers. "Younger people always think I'm cool because I'm very forthright. The older people…I don't know."
She told us that her friend was dying of Parkinson's disease, and she wanted to help her with cannabis, but her husband refused to consider it because he saw Reefer Madness when he was young, and now nothing's going to change his mind. "That is the danger of misinformation of that kind," she told us wistfully.
"I love, love, love the people I've been meeting through [cannabis]," she told us before emphasizing how much Marijuana Mommy (Jessie Gill) has helped. Together they got Carol off of painkillers by using specific strains for specific problems.
Without the drug-induced lethargy, she's been able to get moving again. "It's gotten me up and out of bed and it's got me doing things again; it's gotten off the weight I put on from sitting around doing nothing—and I'm not going back."
She's lost 55 pounds since cannabis helped her quit the sedentary life four years ago, telling us that she has a normal BMA "for the first time this century."
But there are also definite elements of "recreational" use at play, she shared with happiness in her voice. "[Cannabis] heightens music, and it makes me feel good. It makes me feel alive,and it makes me want to get up and out of bed. And at this point that's what I need."
Kate, 70, Greenwich Village NYC, New York
Kate (who preferred not to give her last name) started smoking in the 1970s and hasn't stopped since. She says she used to smoke sticks 'n stems before she moved to NYC in 1976 and discovered sensimilla, and it was a whole new experience. Kate still spends most of her time in New York, where cannabis is only legal for medical use, so continually getting high-quality cannabis can be an issue.
Luckily, she met that hero of a dealer who introduced her to sensi, and when he left town he passed her onto another. The next dealer did the same. And the next. And now, nearly 44 years after arriving in NYC, she shares that this chain remains unbroken, even though her last connection died of cancer.
"On our last phone call, he said, 'And don't forget, you can always see Paul.' Here's this guy, dying of cancer, and he's worried about me and my pot connection!" Kate said.
Kate says she's not too worried about getting caught. "You walk in Manhattan and you smell weed all the time. It's not enforced, and, if anything, you get a ticket. Or, I should say, it's not enforced if you're a white person, to be honest with you," she shared, with irritation in her voice. "Whenever I read about people getting busted for marijuana smoking, it's disproportionately people of color. I'm white and I'm old—so I'm not going to get busted."
When asked what she likes about cannabis, she replied, "I like the high. And it's different from drinking. I can't say that I've ever gotten so stoned that I fell down, which happened to me drinking in the past." She enjoys cannabis a few times a week, loving the ritual of rolling up a joint, the puffing, and how it looks sitting smoking in the ashtray.
Kate also lives in a building where she's not worried about anyone complaining about the smell associated with her hobby, as she resides in an artist's community. In fact, many of her neighbors smoke, too. Since most of the tenants move in, love it, and never leave, she says it's become a "naturally occurring retirement community." She enjoys having neighbors who are like-minded peers, sharing that she enjoys smoking with a couple different neighbors her age, as well as flying solo.
All-in-all, cannabis life for Kate hasn't changed all that much since the 70's, though she does enjoy a vape pen when she goes to the Jersey Shore, where the houses are close together and the smell of a joint is too conspicuous. She also reminisced about one stoney pastime from back in the day, one that we'd have loved, too: ironic showings of the 1936 anti-cannabis propaganda film, Reefer Madness, which played at midnight.
"We were probably stoned out of our minds, but we thought it was hilarious."
---
6 weird ways to consume cannabis
Meg Hartley
Published on April 8, 2020 • Last updated July 28, 2020
Once limited to just plant or butter form, the recreational market has opened up products like tinctures, vape pens, topicals, and much more. If you're new to cannabis, or live in an illegal state, that alone may be news to you.
But there's even more innovation going on in the cannabis industry, beyond the typical products. So we've rounded up product picks of some unusual forms of cannabis consumption.
These products help all kinds of people get the medication or relaxation they need, and in forms that make consuming cannabis more feasible for all kinds of people. Get ready to branch out …
This product is a med consumer's dream! These sticky patches are 2×2 inches, and meant to be placed on the skin somewhere venous, like on top of your foot or on your wrist. They release cannabinoids for up to 12 hours, which makes them great for sleeping—no waking up to take another pill or smoke another bowl with these guys.
They're also dreamy for traveling—TSA agents may be getting hip to what a vape pen looks like, but they won't be able to tell your canna patch apart from one that releases nicotine or birth control.
While the idea of chew gives many the icks, this product shouldn't be disregarded for its similarities to tobacco products. The packaging looks like a regular dip tin, but when you open it, there's little pouches inside. These pouches are filled with coconut fiber, essential oils, monk fruit, and a dry cannabis tincture.
As a Leafly reader, you probably know that holding a regular tincture in your mouth (instead of swallowing it) lets it absorb directly into your bloodstream instead of going through your stomach, which takes longer. Holding the canna pouch inside your cheek takes advantage of this process, leading to relief in 10-15 minutes, and releasing meds for up to 40. And the pouch is not visible.
Cannadips come in American spice, citrus, and mint. (Hot tip: mint is great with coffee.)
Ever wish you could just spike a drink or food with cannabis? Well, now you can! Ripple comes in single-serving packets of powder that are odorless, flavorless, calorie-free, dissolvable, and full of THC and/or CBD. This means you can add some to your water bottle, sprinkle it on your cereal, or add it into just about anything you can think of.
Ripple packets contain organic coconut oil, sorbitol, modified food starch, and cannabinoid distillates—so there's nothing too crazy making that dissolvable magic happen. (Though sorbitol isn't recommended in excessive amounts, so perhaps don't add it to everything you can think of.) They also have a CBD-heavy variety as well as a 1:1.
Sometimes you want relief to hit quickly, and sometimes you want it a bit later. Pills, tablets, and capsules offer the delayed effects of edibles, but are quick 'n' discreet. Say you don't want to be stoney for the getting-situated part of a concert, getting through security, finding a seat, etc.—but would like that soothing inside-out feeling of edibles once the show gets rolling. Just take it (or them) the second you park, and you'll be chillaxed in time for the show.
Similarly, medical consumers can take advantage of this form of cannabis when they know they won't have the ability to medicate. Say you're heading into a long meeting and concerned that your pre-medicating won't last through the whole event, you can pop this 10mg capsule before it starts.
And if the meeting's uber-long, take another before symptoms hit again, feigning like it's a regular ol' Advil and not symptom-soothing THC.
Gum and mints
Chewing gum has never been so fun! Another super-stealth product, Joygum can get tossed in a bag—great for chilling out a plane ride, quelling unexpected symptoms, or spicing up an event that's gotten dull.
Another one that absorbs through your mouth lining, this gum starts working in just ten minutes. It comes in 7 flavors with a variety of THC:CBD ratios.
And it must be mentioned that gum isn't the only thing rocking it in the mouth-freshening-canna department! Menta Mints are another way to dose up whilst getting good breath, coming in four flavors, three with THC and one offering CBD as well.
Breath strips are another great option—the version by Escape Artists comes in Minty Mint and Sour Lemon, each with 10mg of THC.
These were formulated with female needs in mind, easing the pain and discomfort experienced with menstruation, and have become a godsend to thousands of endometriosis fighters.
But they can also be inserted into the other hole where the sun don't shine, taking about 20 minutes to start providing localized relief (near the spine, through the rectum) for other types of pelvic pain, IBD, lower back pain, and sciatica.
But when used this way, they've got some saucier benefits as well. If you're interested in sensual activities involving this area, but the idea of it, umm, tenses you up, these are said to help relax things.
If that's not for you, rectal use of this product also can help with both clitoral and penile arousal issues. They are meant to be used 30-60 minutes before sex.
Other bonkers edibles
This list would not be complete without highlighting several out-there and under-appreciated edibles from Leafly's extensive collection—because we're living in a time where you can buy Weedos, and people don't celebrate that fact nearly enough.
If you're not feelin' cheesy, perhaps some Mixed Fruit Crispy Treats are what you need—part sugar cereal, part 'mallow, and up to 50mg of THC goodness, mmm.
Still not quite hitting the munchie spot? You must be after something heartier, like Infused Beef Jerky? Nah? Maybe if you add a little Pot Sauce? There you go.
It's a beautiful time to be alive, isn't it?
---
Are we turning CBD into snake oil?
Published on August 1, 2019 • Last updated July 28, 2020
B12 deficiency nearly caused my death in 2015; did you have any idea that's even something to worry about? Like me four years ago, you probably didn't—and it's largely due to a fellow known as "Dr. Feelgood." This charlatan popularized B12 in the 1960s, administering it in a decidedly not-medical fashion, giving it to those without a deficiency because of the energy boost it offered, often combining it with intoxicants and other substances.
CBD has become a trend before scientists have even fully figured out how it works with our bodies.
This eventually led to it culturally being thought of as a "snake oil," or basically worthless and unnecessary medicine—which had unfortunate and severe effects on how it's now treated by the medical community at large. And this happened despite the 1934 Nobel Prize in Medicine being awarded to the man who stopped the formerly frequent deaths of the deficiency, then known as pernicious anemia.
In our culture, we like things simple. Even though B12 deficiency was an extremely common cause of death a mere century ago, doctors are now hardly taught about it; they're not even taught to screen for it correctly, and often not testing even serum levels unless they see anemia, a late-stage symptom that doesn't happen in everyone.
Let's talk about what this means for cannabis. CBD, or cannabidiol, is trendy. So trendy, it's showing up at dinner parties, high-end juice bars, even Carl's Jr.—and it's at risk of falling into the same fate as B12.
The Big Deal
Within each and every one of us is a system of receptors that interact with cannabis, allowing us to experience its pleasurable and therapeutic effects. It's called the endocannabinoid system, or ECS for short. Yet most doctors haven't been taught about the endocannabinoid system at all, ever.
Despite the willful ignorance of the medical field in this regard, experts have been studying the ECS for nearly 30 years, understanding that it acts as a balancing force in all of the other bodily systems. Put simply, the ECS is an important biological network that medical professionals have yet to fully understand.
What if the result of CBD-mania could be that the medical prowess of the ECS, and the cannabinoids that interact with it, aren't ever taken seriously?
Because it interacts with the other bodily systems to help achieve homeostasis (or balance), when the ECS isn't functioning properly, it may affect the body in a multitude of ways, and often in a severe manner.
This is also why cannabinoids like CBD are such medical powerhouses—because they can help the ECS function when it can't produce enough endocannabinoids (the cannabinoid-like compounds our body naturally produces) to run properly. Different cannabinoids in cannabis work with the ECS in a multitude of ways, empowering it to aid the cacophony of symptoms that can be caused by ECS imbalance.
The "Dr. Feelgoods" of CBD
By way of its effects on the ECS, CBD is a serious subject, and the way it's regarded has very real implications. All of us need to start treating it appropriately, but especially medical professionals and those profiting from CBD.Since the passing of the Farm Bill, CBD has completed saturated our culture—and the pyramid schemes, ice cream flavors, and sketchy (untested!) products from random websites are affecting the way CBD is viewed.
The stigma around cannabis has already led to a major bodily system being largely ignored by the people who are responsible for protecting our health. CBD has become a trend before scientists have even fully figured out how it works with our bodies.
In our culture, if people think something is irrelevant, history has shown that it will be treated as so, regardless of overwhelming facts to the contrary. Even though the ECS was discovered in the early 90's, its relation to a stigmatized plant means that it's been ignored. Our nation has been swept up in the miraculous power of a cannabinoid without even really knowing what it is, or that there's many more of them waiting to be studied and benefited from.
CBD has already proven to be an important medicine for serious conditions. But if we keep treating CBD with all the relevance of a fidget spinner, it's hard to imagine that the dinosaur pace of cannabis science will hasten. This means that the lack of an even rudimentary test for endocannabinoid deficiency or dysfunction will persist, and people will continue to be diagnosed with "incurable" and misunderstood diseases—and still suffer the symptoms.
---
10 Things I Learned Working In A Cannabis Dispensary
IT WAS UNLIKE ANY EXPERIENCE AT AN OFFICE I'VE EVER HAD.
Nov 3, 2018, 09:00 AM EDT|Updated Sep 10, 2022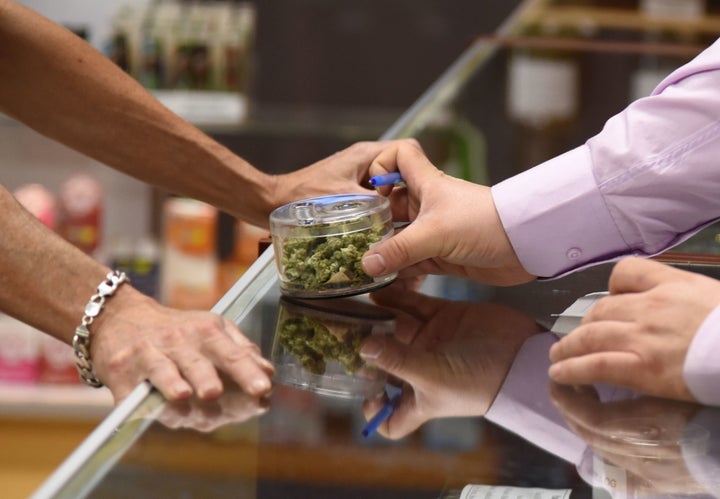 It's just cannabis, right? How important can something affectionately referred to as "wacky-tabbacky" be? In my case, very.
In 2015, I nearly died from a vitamin B12 deficiency (because that's a thing), which catapulted an evil disease called fibromyalgia into the center of my world ― and then totally imploded it. I was completely debilitated and lucky to leave my sickbed once a week. There is no way I would have gotten through the worst of it without cannabis to manage both my symptoms and the depression that came with them. No. Fucking. Way. (But, of course, you should always consult your own physician or mental health professional before trying any drug or medication.) It was an incredibly hard time, to put it mildly.
Finally, after two and a half intense-yet-dull years of medical tests, bedrest, physical therapy and intensive self-care, I was healthy enough that rejoining the working world started to seem like an option. I was homeless at the time after moving to the warm Los Angeles area from rainy Portland at the advice of a doctor. I hadn't been able to find affordable housing or reliable work I could physically perform. I was starting to accept the idea that I'd be a homeless cover letter-writer for the rest of my days. Then, miraculously, an incredible job landed in my lap.
After posting about my beloved cannabis on Instagram, a follower-turned-friend introduced me to the manager of a nearby dispensary who then kindly hired me to do their marketing for as many hours as I could handle (whew!). Sadly, the position was phased out of existence after six months due to budgetary restrictions. But it was a brilliant introduction to the industry and helped me get back on my feet.
police showing up (never saw one) and the sounds of reggae (which I did hear! along with all kinds of tunes) ran through my head ― but I know I didn't imagine the Keurig machine. In many ways it was, surprisingly, like any other job I've had: It involved a very typical management structure; there was software to learn; we attended morning meetings; and there were never quite enough (or the right) office supplies in stock. All in all, it was totally the standard stuff you'd encounter in any other workplace.
2. It's nothing like working for any other business: On the other hand ― oh look, there's a big stack of cash, video cameras and armed guards and, of course, ginormous bags of herb! I got to weigh and package the cannabis buds (known as "flower"), and playing with cannabis while chatting with customers was definitely unlike any experience at an office I've ever had. Even after time began to be filled with duties typical of a more traditional marketing position, I still often found it hard to believe I was getting paid to do things like describe the particular high of a cannabis strain or take photos of herb. I even got to create a giant cannabis painting for a photo-op background.
3. People can be real jerks about getting their cannabis: I assumed our customers would be all chill and thrilled to be at their local weed store. Nope! My guess is that some of the crankier people who visited the store were folks in need of cannabis for medicinal use, and being sick is always an understandable reason for crankiness ― especially if we didn't have what they needed in stock. We had lots of friendly, laid-back visitors to the dispensary ― the majority, in fact, were that way ― but I was still surprised by the noticeably high jerk ratio. (Still, I'd bet most of them were much more likable once they were able to enjoy our product…)
4. But it has good people: I've worked in many offices and generally felt like a weirdo, even before I started dying my hair purple. But I never felt like an outsider at my dispensary. Hugs were given out on the regular and it was safe to tell stories and share opinions without having to majorly censor yourself. So far I've found that kind, funny, hard-working, passionate badasses dominate the industry.
5. Cannabis is an industry in flux: Recreational cannabis use in California only became legal on Jan. 1 ― and just 10 months in, it's a total shitshow. New compliance regulations are released by the government all the time, and they often leave dispensaries and manufacturers scrambling to adhere to them or risk losing their licenses. Even with licenses intact, adjusting to the changes can leave businesses temporarily unable to serve their customers and patients.
What's more, illegal dispensaries are still flourishing right out in the open while authorities use their time, energy and resources to make sure the licensed ones are following the new, and often very vague, rules to the T. The fact that cannabis is still federally illegal also makes thinks like banking tricky, which in turn causes daily annoyances and can lead to huge problems, like the inability to pay employees or vendors.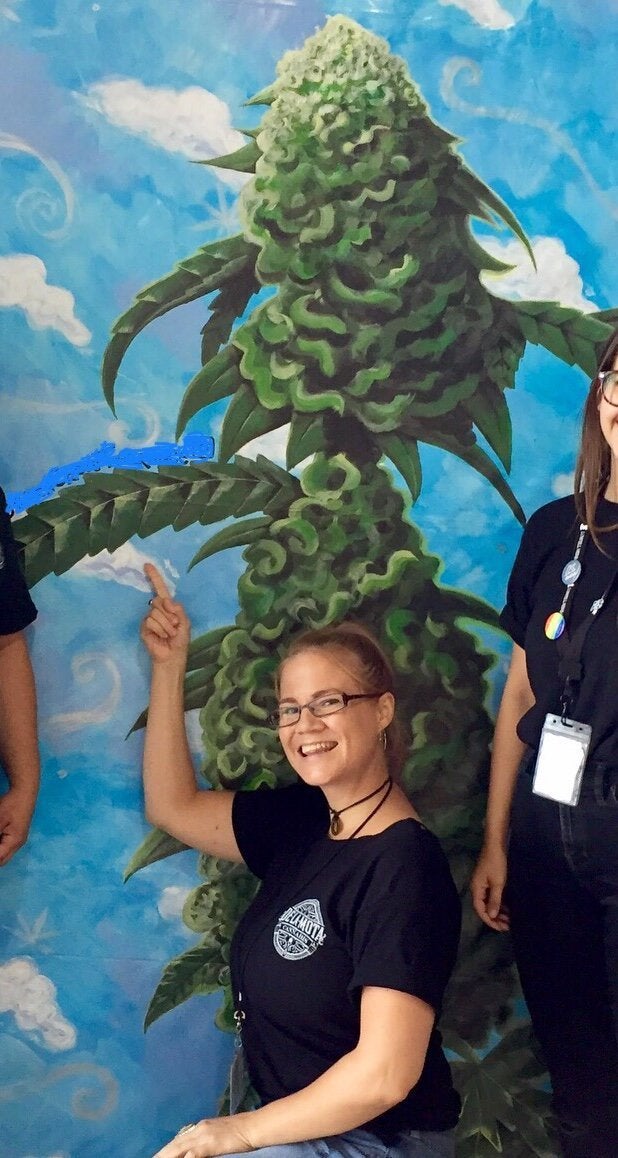 6. Cannabis is a gloriously complicated plant: The therapeutic effects of cannabis seemed magical to me when I started working in the industry, and oh, how I loved the glory of discovering exactly why. It turns out our bodies have something called endocannabinoid systems (ECS), which work with plant compounds called cannabinoids ― THC and CBD are popular ones, but there are so many others. Each cannabinoid engages with the ECS, which then activates their distinct superpowers and thereby helps alleviate suffering from a huge range of ailments. Many cannabinoids are even capable of working their magic without getting the user stoned, a benefit for those who are seeking relief without looking to get high.
7. There's so much more to do with cannabis than just smoke it: I was in love with my vape pen ― a device that uses a battery to warm cannabis oil in a cartridge and then produces a vapor the user inhales ― when I started the job. But I had no idea how many other ways to partake in the plant there were out there. My favorite cannabis product is the tincture: I drop some THCa (a cannabinoid) oil under my tongue a few times a day, which helps my nerve pain like whoa. There are also topical solutions that are applied to the skin, edibles you eat or drink, capsules you take like a pill, patches to slap on your body for longer-term relief, even cannabis lube.
8. Cannabis isn't just for eating Funyuns and watching goofball movies (though it's great for that too!): Working in a dispensary taught me just how multifaceted cannabis really is. In addition to what it can offer those suffering from various ailments, different strains of cannabis and different cannabinoid profiles can also provide different users different experiences. If want to become one with your couch and enjoy satiating your munchies, there are strains for that. But there are also strains that are better for socializing, others for being productive, and some for using before or during sexual experiences. You can visit a dispensary and find exactly the strain you want or need for whatever activity you have planned. The notion that cannabis just makes you lazy only exists because people haven't learned exactly what cannabis is capable of or the myriad ways it can be used.
9. Cannabis is for everyone (of legal age, of course): Pop culture often portrays cannabis users as predominantly male 20-something slackers, but that's definitely not the case. The combination of decreasing stigma, increased studies on cannabis' benefits, and the availability of cannabinoids that don't get users high have all kinds of people interested in trying the plant. Grandmas, school teachers, rich people, poor people ― we served them all at my dispensary. After a few weeks in my position, I was no longer shocked by the wide variety of people who came in to purchase cannabis. The only people who surprised me were the ones who weren't wearing any shoes, which happened three times in one week before we made a sign requiring footwear in the store.
10. Cannabis used to be sold in pharmacies all across America: I got to do a lot of fascinating research related to my position at the dispensary and cannabis prohibition was one of the most interesting topics I learned about. The plant used to be popular at U.S. pharmacies until 1937, when the Marijuana Tax Act was passed and the first major federal limitations on the sale and use of cannabis went into effect. Before then, it was legally sold in tincture form to treat many ailments. Then, after alcohol prohibition was overturned 1933, cannabis became the new target. A real peach of a man named Harry Anslinger led the charge, demonizing the plant and calling it "marihuana" to make it sound like a different drug than the popular "cannabis" ― and threateningly foreign to boot. He once reportedly said, "Reefer makes darkies think they're as good as white men." His horribly racist strategies were horribly effective, which greatly contributed to both the remaining stigma associated with cannabis and the current systemic mess we're attempting to clean up with legalization and regulation of the drug. This is why you shouldn't refer to the plant as "marijuana," a word with a racist history. Instead use its proper name, "cannabis," or one of its many other colloquial names, like "weed" or "herb."
***
I feel optimistic and excited about the future of the cannabis industry, despite its current messiness. Aside from legal issues, I believe a lack of education about the plant causes a lot of the troubles related to what cannabis can and can't ― or should and shouldn't ― do. I've been a cannabis fan for much of my adult life and I've lived in a state where it's been legal for recreational use since late 2015. Still, I was stunned by the massive amount I learned during my brief time working in the industry. If someone like me wasn't fully aware of the power or potential of this plant, I can only imagine what folks who have never tried it or researched it know ― or don't know ― about it.
I'm not alone in my passion for spreading accurate information about cannabis. Working to alleviate stigma and misinformation is also included on the manifestos of many cannabis companies. The industry is aware of the problem and is passionately working to find creative ways to address and bust the myths and straight-up lies about cannabis that continue to circulate. Hopefully, our lawmakers and those tasked with enforcing the current laws will get on board and work with the industry to regulate cannabis and make it safe and available to everyone.
Cannabis is so much more than another way to relax with friends on a Friday night. I'm grateful to have learned so much and to have met some really amazing people while working in the industry and I'm hoping I'll soon land another job that will allow me to continue to share the life-changing ― and incredibly enjoyable ― capabilities of this incredible plant.
---